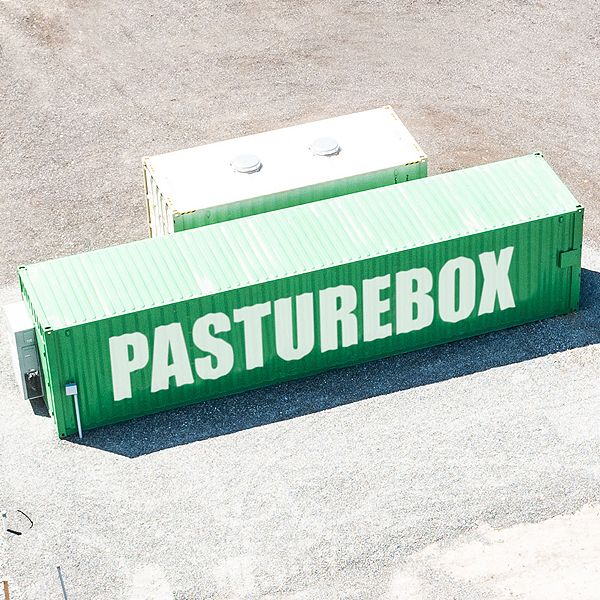 The PastureBox is a self-contained, fully-automated system that can produce up to 2000 pounds of premium livestock feed daily. The PastureBox is a premium feed producer that easily maintains consistent, high-quality, live feed day in and day out. Harvest up to 2000 pounds of prime feed per day and either feed your livestock on an as-fed basis, or mixed with your ration of choice.
In addition to the features offered in our manual line, the PastureBox 2000 offers up to double the output without any manual seeding or harvesting. With the touch of a button, the PB 2000 initiates its harvesting sequence which simultaneously harvests, washes, and seeds the trays ready for feeding. When paired with a SiloBox, it can operate without intervention for up to 5 months. 
It comes standard with 2" of closed-cell insulation and a 1-ton HVAC system to combat even the toughest climates. It requires no building, no foundation, and very little land. Simply hook it up to water and power, provide the seed, and the PB 2000 will do the rest.

55 Acres: Each Pasturebox can replace up to 55 acres of alfalfa with no loss in feed quality.
-90% Gallons: Save a large amount of water per day. That's less water usage than an average pivot in a season.
0% Harm: No pesticides, herbicides or fertilizers. All the feed you need with only three ingredients.
2K Pounds: The Pasturebox can produce 2,000 pounds per day of the highest quality feed year-round.